Lake Region Anglers Association
"Sportsperson of the Year Award" and "Lifetime Achievement Award"
Any member has the right to nominate a person for the LRAA Sportsperson of the Year Award or the LRAA Lifetime Achievement Award.

If you would like to nominate a member for one of these prestigious Awards please click on the nomination form of your choice at the links located below. Please return your completed nomination form back to LRAA via the mail or through e-mail by including a copy of the nomination form in an attachment.

All nomination forms should be returned to LRAA prior to March 1st as the Board of Directors reviews all Sportsperson of the Year and Lifetime Achievement Award nominations that are received at their March Board of Directors meeting since this is the last Board meeting that is held prior to the membership's annual meeting.

These two awards, the Sportsperson of the Year Award and the Lifetime Achievement Award when given out are announced at the Association Members Annual Meeting.

"Team of the Year Award"
All members who meet the qualifying criteria by taking part in the three designated Outings will be considered for the LRAA "Team of the Year" Award.
To access and view the "Team of the Year" qualifying criteria please click on the following link.
Previous Winners:
• "2011 Team of the Year" -- Ryan Boline & Kris Rainsberry
• "2010 Team of the YEAR" -- Travis Clemens & Jason Ramberg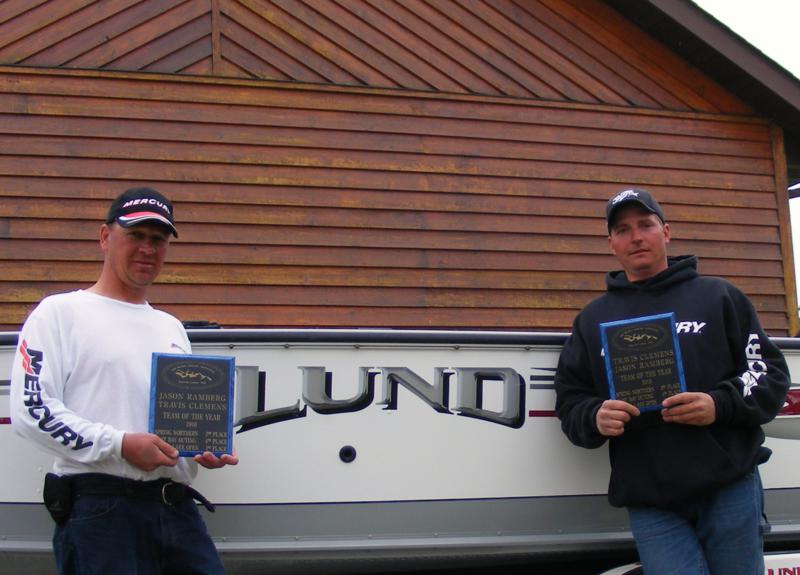 Congratulations to Travis Clemens and Jason Ramberg on winning the 1st Annual Lake Region Anglers Association "TEAM of the YEAR" competition. Travis and Jason finished in the top 5 in all three of the qualifying events, finishing in 2nd Place in the LRAA Spring Northern Outing, in 4th Place in the LRAA East Bay Outing and closing out the competition with a 1st Place finish by WINNING the LRAA Devils Lake Open.
These two had a season to remember as they also placed highly in couple of the other area major Walleye Tournaments with a 2nd Place finish in both the 10th Annual Spirit Lake Casino Walleye Tournament and the 34th Annual Devils Lake Chamber of Commerce Walleye Tournament. What a YEAR!!! Congratulations!!!